How Does It Work?
Well, the best way to describe this is through the key features and functions that Harkn uses - each of which will have its own set of questions and guides, but here are the basics.
The Daily Check-In Routine
The daily check-in is the core process around which everything else in HL works.  It's a simple daily routine that starts with either us nudging you (and you responding) or you logging-in to harkn.com and recording a rating of your day. 
The rating system is a 0-100 rating scale designed around a smiley face. The background colours are mood oriented. The rating starts at 50 where the face is green and the smile is relatively neutral.  Slide the scale to the point that best reflects your day.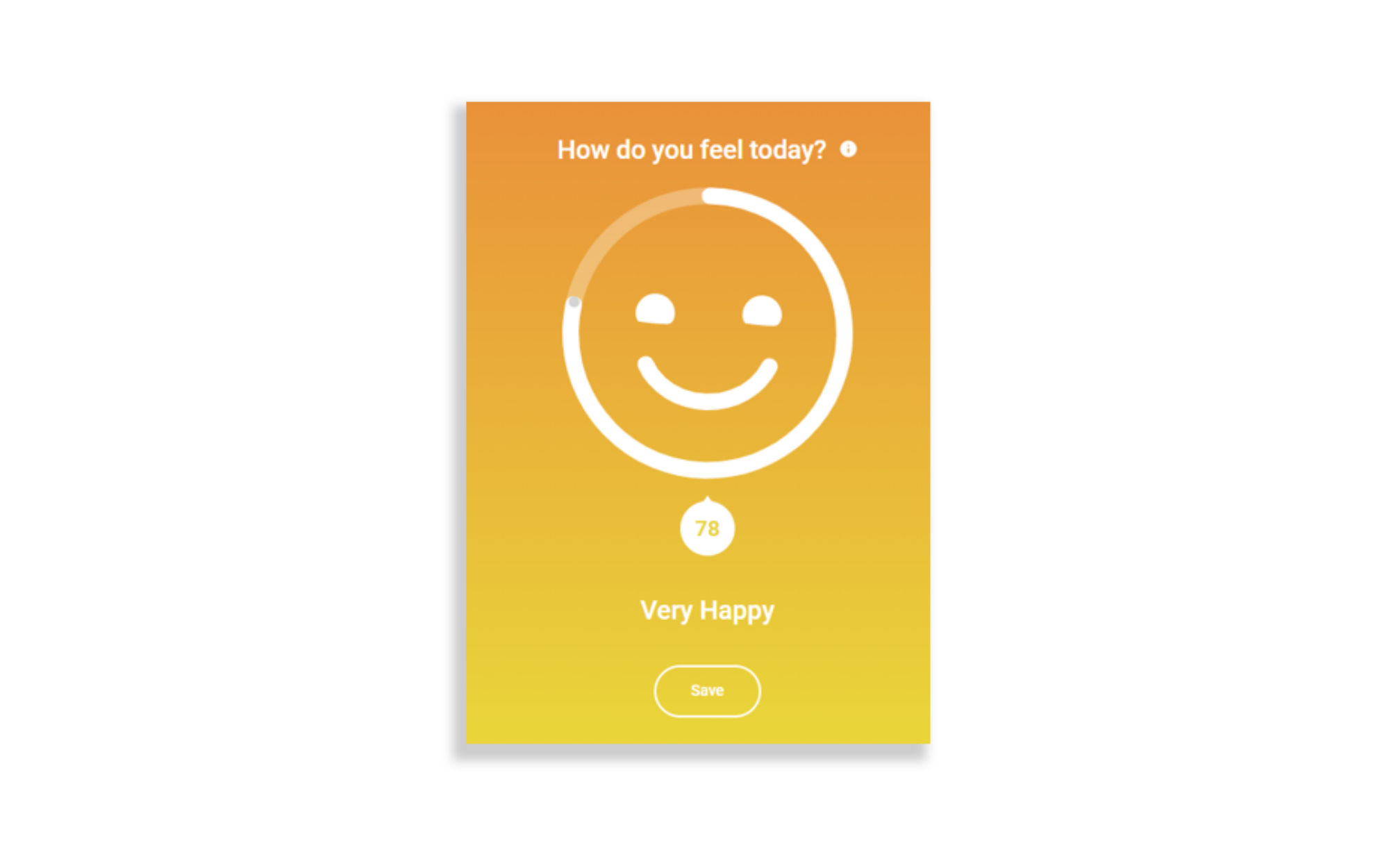 As you go higher representing a better day the colour changes through yellows into a warm orange. If you go lower representing a worse day the colour changes through blues into purple.  
Once you've submitted a rating we'll ask you to capture a few words about what's influencing that score and once you've written it you'll have the choice to keep it private or share it. Keeping it private will mean it will appear only in your personal tracker. Sharing it means it will appear on the Wall.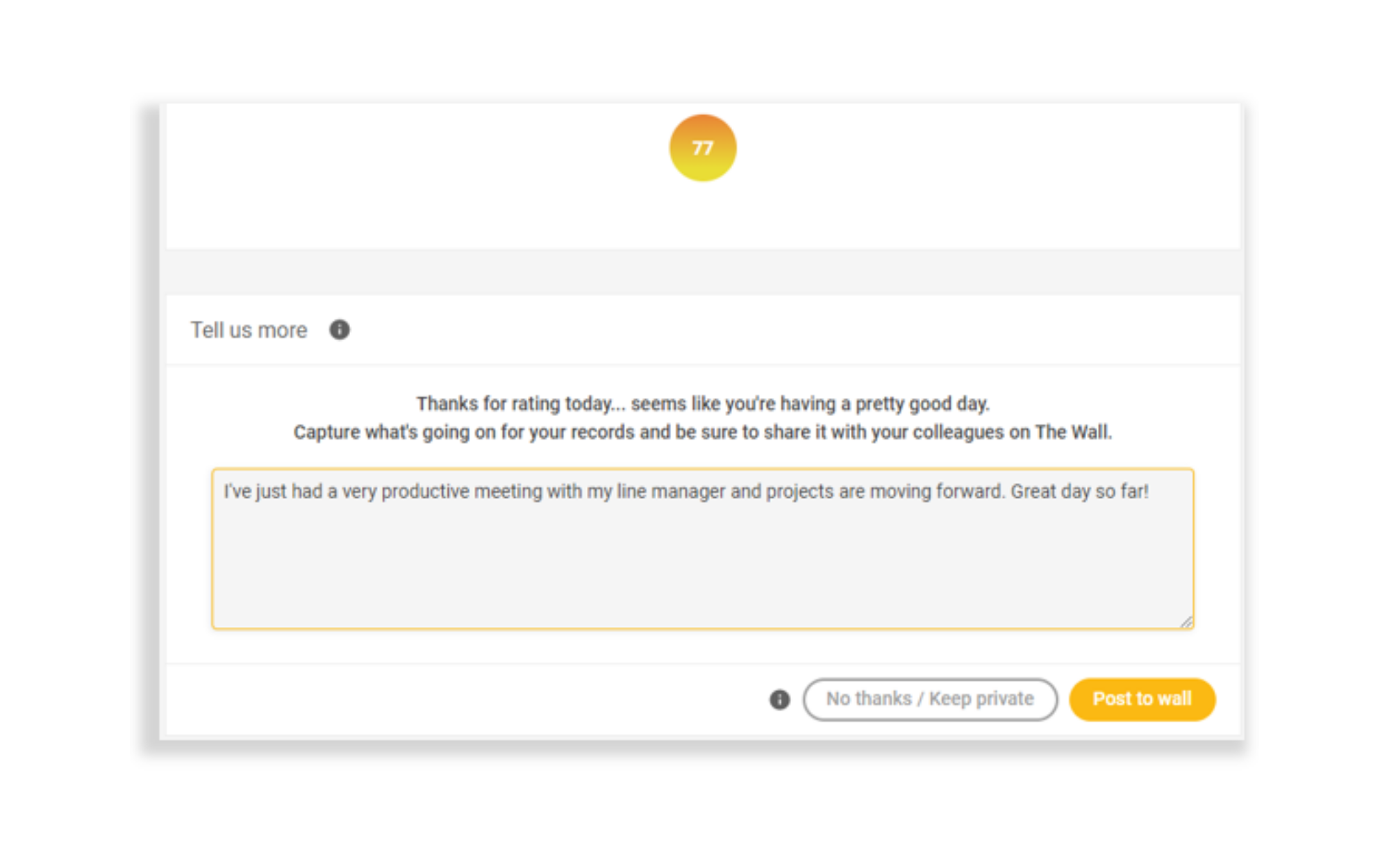 That's it - it takes less than 1 minute per day.
The Wall
The Wall is the running commentary of life for people working in your company - it's unfiltered and wonderfully raw.  
It's the place where your comments and those of your colleagues appear for everyone to see and it's often the source of great ideas, the place to see what issues people experience, and the place where you'll find out how people feel about the big things happening in your company or team.
Importantly, it's also a place where it's safe to speak your mind, seek support, and offer support to others.  
Comments appear alongside the rating given at the time which works as a colour coding system for sentiment and they're always anonymous.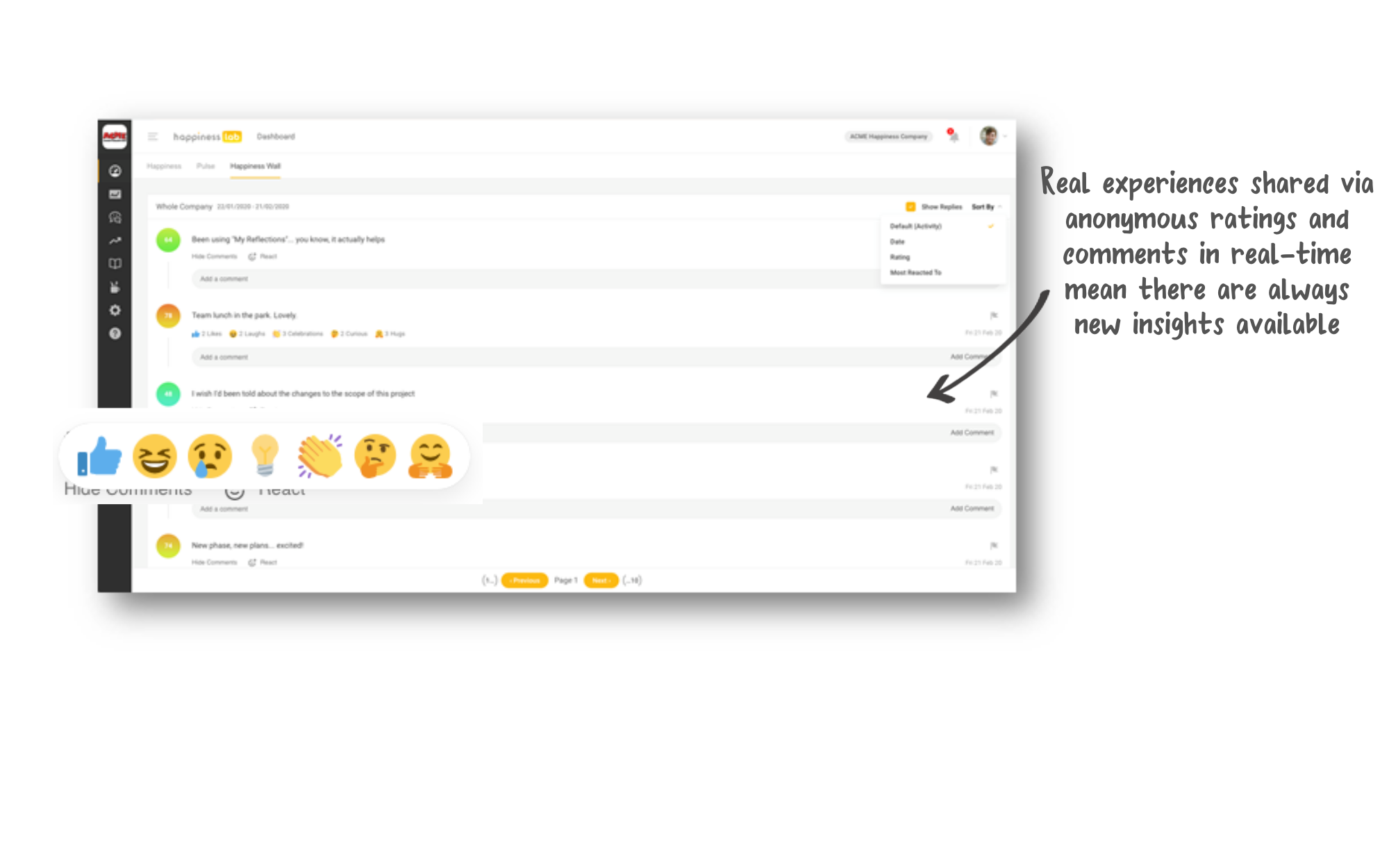 Here you can also interact with each other's comments - replying and reacting to the things your colleagues share. You can filter, view in different ways, flag comments that are worthy of attention (for any reason) and export individuals posts and share them elsewhere too - all without compromising anonymity or privacy
Pulse Survey
From time to time you may be asked a few additional questions.  If you've ever participated in workplace surveys, this part of Harkn will be pretty familiar.  The specific questions asked and the frequency of Pulse surveys is determined by your employer, but they're there to complement the daily check-in routine providing additional insights into your experiences, views and opinions.
Whenever a Pulse survey is running, the questions will appear directly after you've captured your daily rating.
My Tracker
My Tracker is an area in Harkn that gives you control over what you decide to share publicly and what you decide to keep private. It's a great tool for self-reflection and building emotional awareness and shows you how you interpret your environment.
It provides you with insight into your rating history and that of your team and company with their average happiness ratings which gives you a context in which you can view your ratings and see how you experience your environment and what's going on in your life.
My Tracker provides a record of your daily influences: capturing a daily influence helps you to understand yourself a bit better and builds an accurate picture of your experiences as we experience them. This area in My Tracker therefore becomes your own personal Wall.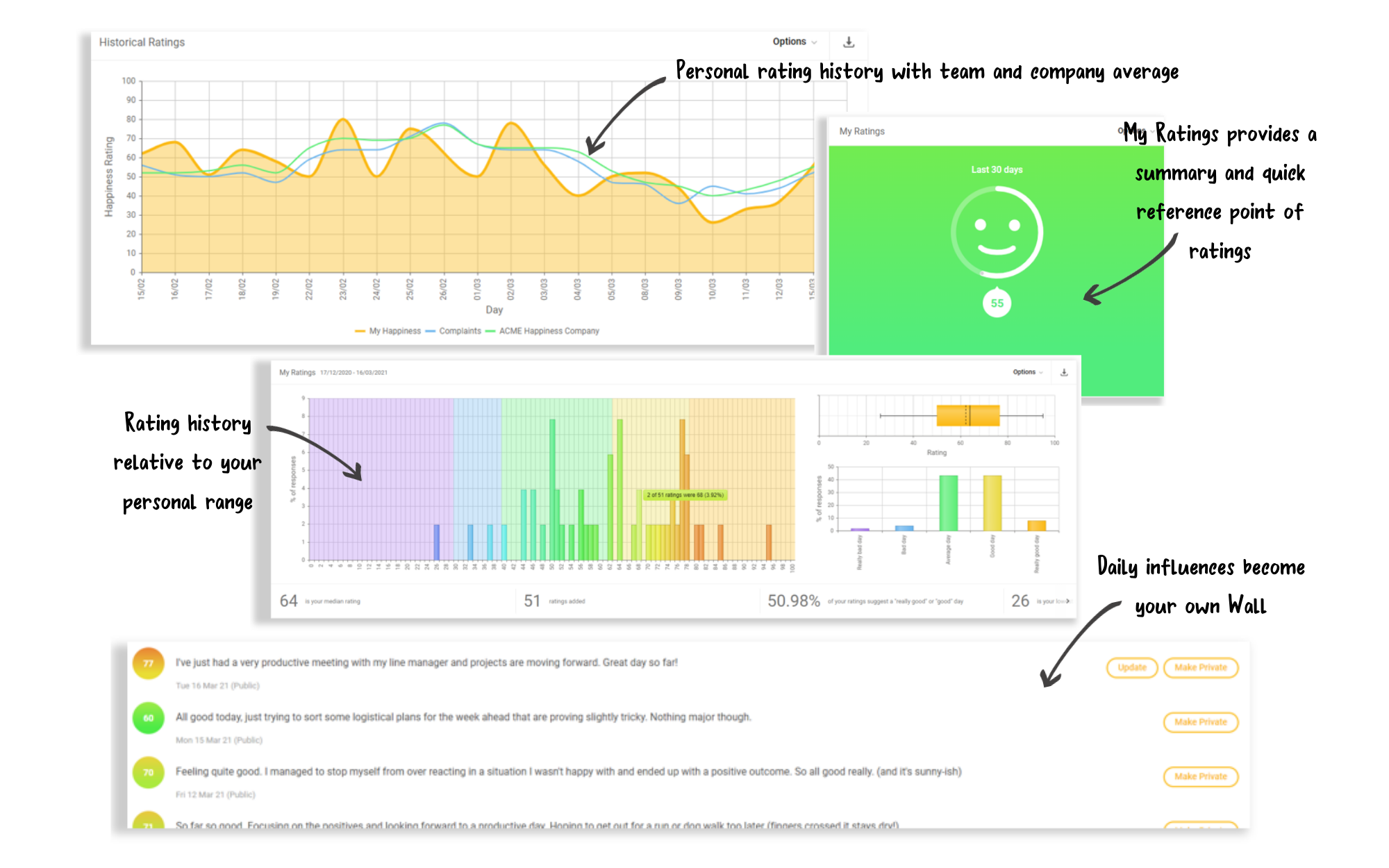 It also shows your absolute ratings relative to your personal range which is useful as this can help you to understand yourself better by asking whether your experiences and feelings reflect the distribution of your ratings.
My Reflections
Journaling has been shown to improve physical and mental health as well as leading to increased self-esteem and creativity. By regularly recording your thoughts you will gain insights into your behaviours and moods. Journaling is about perspective and clarity on life's challenges.
Harkn has an inbuilt journaling called Reflections. It has eight different journaling styles to suit you so there is plenty of choice. Our journal works as a 24-hour editable file - any journal you start can be edited for up to 24 hours so you can keep coming back to it if you're updating throughout your day and your journal can relate to today or yesterday (and it will attach your happiness rating for that day for reference).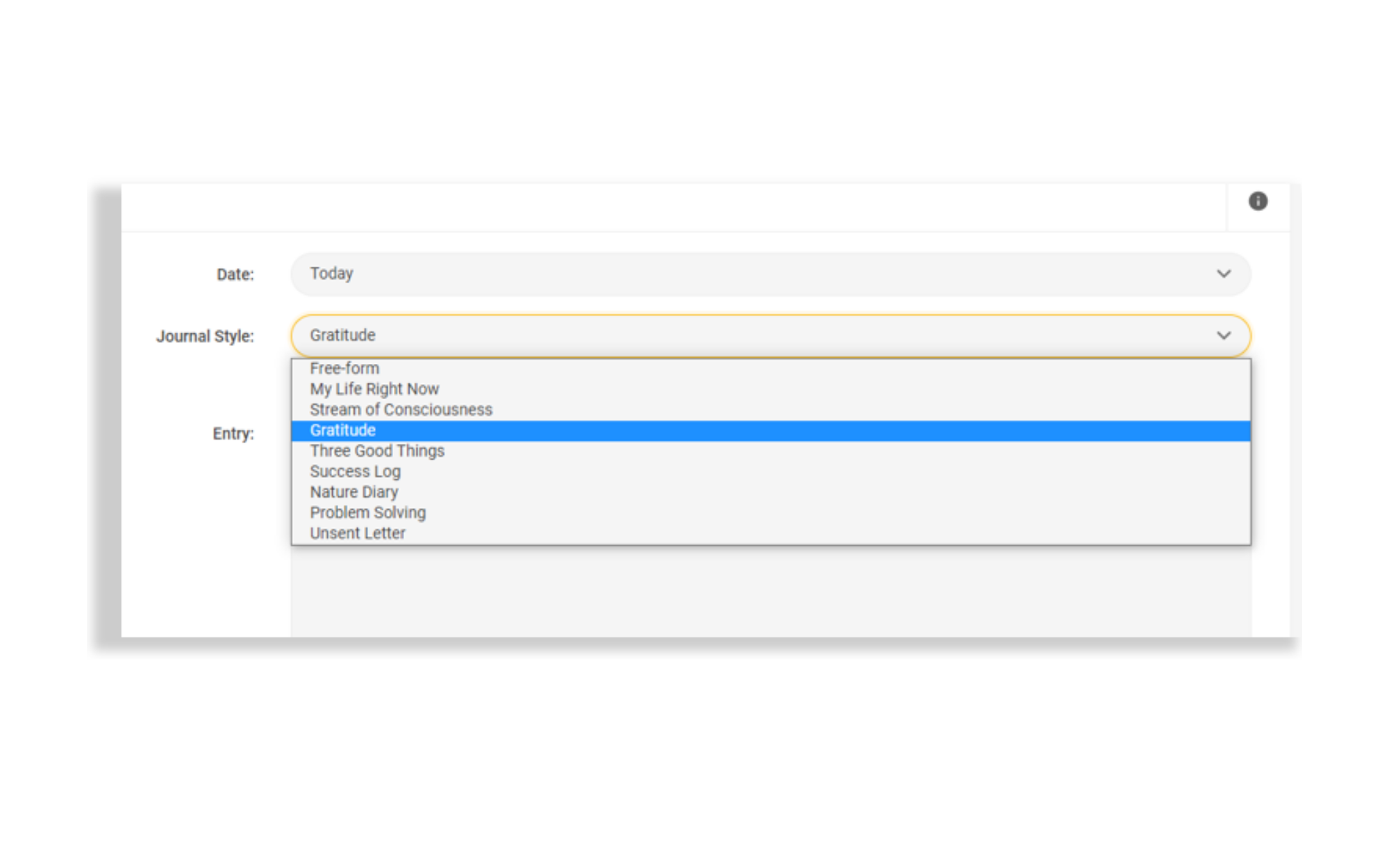 The My Reflections works on a "For your eyes only" basis.  Everything you write in it is exclusively yours. It's completely private.
Monthly Experience Points (or as we like to call them – MEPs)
It's a simple points system that we've developed to introduce a little fun, competition, and motivating factors to our routines, and a mechanism to recognise the different levels of contribution that people make to the collective understanding of culture, experiences, and wellbeing. 
Put another way, it makes it easier to see those people who are really engaged, those who are really committed to making yours a great company to work in, and those who are willing and able to share their views, opinions and experiences with regularity.  All things that will help.
We think it's a great way to recognise contribution at individual and team levels whilst protecting and preserving anonymity about content i.e. that people are sharing their experiences and views, without risking exposing what they've shared.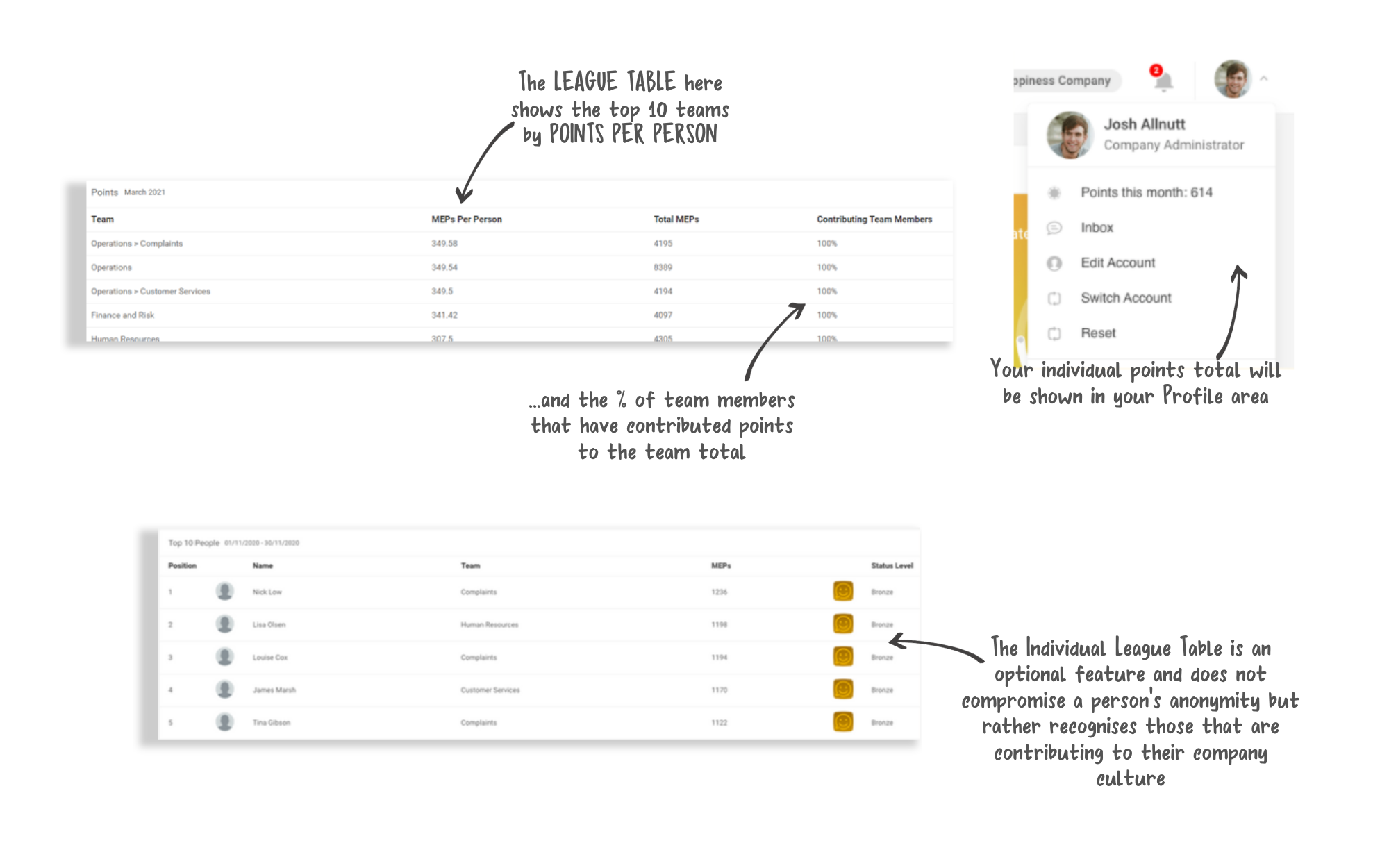 MEPs are earned by regular interaction with Harkn and frequency of participation triggers bonus points.
Your individual MEPs will be shown in your profile area, your Team's MEP will be shown as part of the Teams League Table  and there is also an Individual League Table which is optional. Unlike elsewhere on Harkn this will be a list of the top ranking contributors (Top 10, 25 or 50) by name alongside their team, their MEPs, and their Harkn status level. Any views, responses, rating data you share will remain anonymous. MEPs merely indicate that you are sharing your views, your experience and opinions - that means you're helping.
It's a way to recognise and celebrate those who are contributing most.