Platform
Platform overview
Solutions
Technology is often regarded as a cause of work becoming less human, but it doesn't need to be that way.  Harkn has been developed to put a little human back into work.
We started life as a Management Consulting firm, working with the leadership teams of large organisations, helping them to bridge the gap between where they were and where they wanted to be.
Our work regularly highlighted a difference between how leaders perceived the culture, and how employees described their experience of it...
"Leaders are more confident than they should be that they're getting culture 'right.' But their team members — those who often have less of a say in crafting the direction of culture — are the least comfortable with it."
the cultural awareness gap - DeAnne Aguirre, Global Lead of The Katzenbach Center

... and with changing expectations and needs associated with well-being, work-related stress, mental health, inclusion, and more... this awareness gap risks becoming wider.
What's needed is a new perspective and reliable, relevant, timely and actionable insights, and those insights need to be in the hands of the right people.
That's what we set out to create and that's what Harkn offers.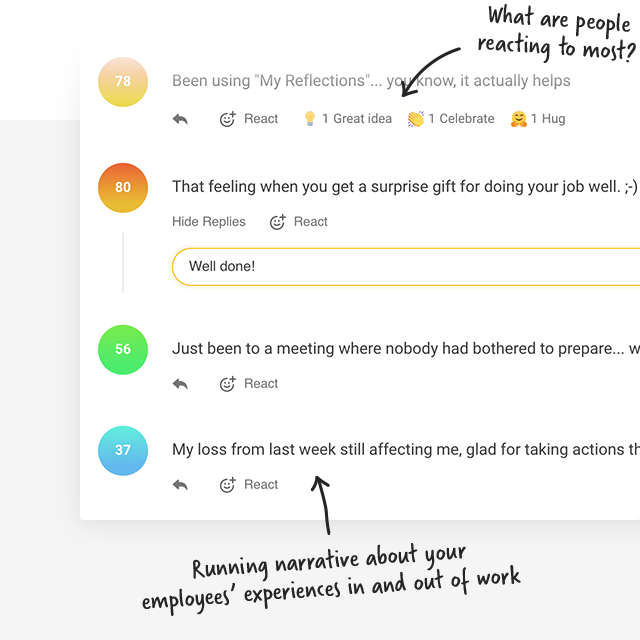 Working with Harkn
Our primary objective is to help your organisation to perform better.
The way we do that is by helping you to understand your culture better and encouraging ongoing improvement at all levels.
Turning insights about your people into action is important, but it doesn't always need to result in major change programmes or enterprise-wide initiatives.
We'll guide you to configure and use the array of features within Harkn to generate the insights you need, and to expose those insights to your people in a way that encourages positive action at all levels.
We'll share our experience, insights and tools to support and encourage your efforts, and continue our own ongoing development to make this platform ever more effective.
We don't shout about our client list (because we all value privacy) but they tell us that they value our product, our responsiveness and professionalism, and most importantly the changes they're able to observe and drive as a result of using Harkn.
Benefits
More ways to use Harkn
Employee wellbeing
If you really want to know how your people are doing, you need to ask often. Harkn supports individual and collective efforts to monitor and improve employee wellbeing.
Learn more →
Employee experience
The entirety of our experience at work influences our performance, behaviour and engagement. Harkn can show you day-to-day experiences in a way no other platform can.
Learn more →
Join our Community Zone to experience Harkn for yourself. You'll enjoy access to the daily check-in routine, the Happiness Wall, Pulse surveys, Dashboards, My Tracker, and our journaling tool, My Reflections.
Try it now