What are MEPs?
MEPs stands for Monthly Experience Points (but you probably knew that because of the title of this pack). 
It's a simple points system that we've developed to introduce a little fun, competition, and motivating factors to our routines, and a mechanism to recognise the different levels of contribution that people make to the collective understanding of culture, experiences, and wellbeing. 
Put another way, it makes it easier to see those people who are really engaged, those who are really committed to making yours a great company to work in, and those who are willing and able to share their views, opinions and experiences with regularity.  All things that will help.
We think it's a great way to recognise contribution at individual and team levels whilst protecting and preserving anonymity about content i.e. that people are sharing their experiences and views, without risking exposing what they've shared.
Earning MEPs
The Big 6 actions earn points...
Daily Check-in (Rating alone) = 10 points
Daily Check-in with a comment = 20 points
Daily Check-in with comment posted to the Wall = 30 points
React to someone else's comment on the Wall = 10 points (once per day)
Reply to someone else's comment on the Wall = 10 points (once per day)
Take part in Pulse surveys = 10 points per question
Frequency of participation triggers bonus points
Weekly bonus:
Rating 3 times per week = 10% bonus on weekly points total
e.g. Rating with comment posted to the Wall three times in the week would attract 9 bonus points (30pts x 3 days + 10%).  Liking and Replying to something on the The Wall on each of the three days would add 60 points and increase the bonus to 15 points.
Rating without comments on 3 days would attract 3 bonus points (10pts x 3 days + 10%)
Rating 5 times per week = 20% bonus on weekly points total
e.g. Rating with comment posted to The Wall five times in the week would attract 30 bonus points (50pts x 5 days + 20%).
Monthly bonus:
Complete all Pulse surveys (all questions) in a month = 30 points bonus
Participation (%) Bonus - Individual participation percentage for the month is doubled as points e.g. if you participated 50% this month, you'd receive 100 bonus points; 35% participation would equal 70 points. 
Minimum participation level of 25%, and participation at 100% (every day possible) receives 250 points rather than 200.
Please note:
Activity on the wall is limited to 20 points per day...
 ...liking and/or replying to 100 posts won't make any difference to the daily points tally.
Displaying MEPs
MEPs will be displayed in a few places
Team League Table - Shows MEPs per person - this makes sure there is no advantage for team size... the team with the most engaged people will be top not just the most people.
Contributing Team Members - shows how many people in your team are contributing. Getting everyone to contribute a few points per month could make all the difference to your league position.
Individual League Table (optional)
Unlike elsewhere on Harkn this will be a list of the top ranking contributors (Top 10, 25 or 50) by name alongside their team, their MEPs, and their Harkn status level. 
Any views, responses, rating data you share will remain anonymous. MEPs merely indicate that you are sharing your views, your experience and opinions - that means you're helping.
It's a way to recognise those who are contributing most.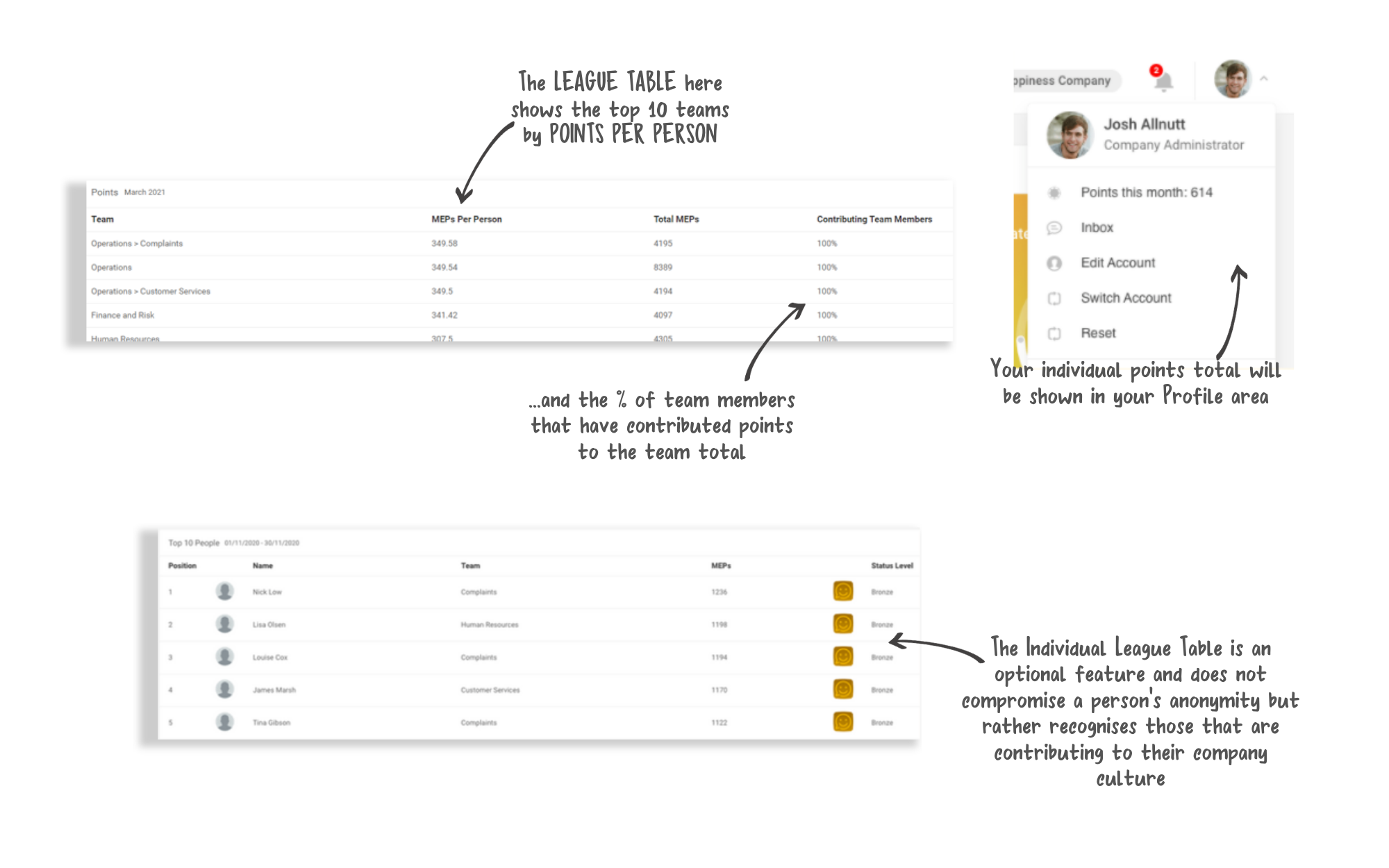 MEP Leader Boards
Use MEPs to build engagement and improve insights
We all know that the information Harkn offers is hugely valuable. It would be even more valuable if more people used it.
Here are a few ideas for using MEPs to boost engagement levels. 
Introduce Competition
Most engaged team? Most MEPs per person? Highest % of contributing team members? Most improved team?
Recognising teams for their contribution to collective understanding and awareness of Wellbeing, Experience, and Engagement might give every one in the team a reason to share something - even if it's just to help their colleagues finish top of the table.
Celebrate and use your role-models
More often than not, leaders are highly engaged with Harkn and participate regularly.  The challenge is that no-one knows because it's anonymous.  Unless it's very clear that things are changing as a result of their contributions on HL, they might think that no-one is listening. Seeing senior leaders achieving status milestones or appearing towards the top of the leader board is a great sign that they're using it too.
Recognise top-performers
Ultimately, the only thing we can all control is our own behaviour.
Whilst recognising team performance is great, regular shout-outs, spot prizes, acknowledgement of one shape or form is always appreciated. So, whether it's for finishing top of the monthly league table or for achieving the next status level, be sure not to let it go unnoticed.
Enrich your 1:1 conversations
We don't need to mandate participation to influence it. MEPs show you who is using their voice without showing what they're saying, making it a safe way to explore why people aren't willing to share their views or experiences. 
Are you sharing your views? Are you using your voice to make sure we understand your experience? How is it going for you?
It's a telling measure of engagement, safety, trust amongst other things.
Harkn Status Levels
Your Harkn Status Level is determined by how consistently you use it.
MEPs (Monthly Experience Points) are awarded each time you perform the most important routines in Harkn - checking-in and rating, capturing a comment about your day, sharing on the The Wall, interacting with colleagues, and responding to Pulse questions.
The more regularly and consistently you do that, the more points you earn.
If you earn more than 500 points in a month not only will you be contributing well to the company culture and efforts to understand and improve colleague experience, but you'll also make progress towards the next level. 
Earn less than 500 points in a month and your status will remain the same level but your progress towards the next level will reset to zero. If you do not earn more than 500 points in the second consecutive month, you will drop to the previous level.
Your Harkn status indicates not only how consistently you use Harkn but could be seen as an important reflection of how much you are contributing to your organisation's understanding of your experiences at work, your opinions on key matters, and your emotional wellbeing.
It is a great sign of your personal engagement and commitment so be sure to mention it to your boss at your next 1:1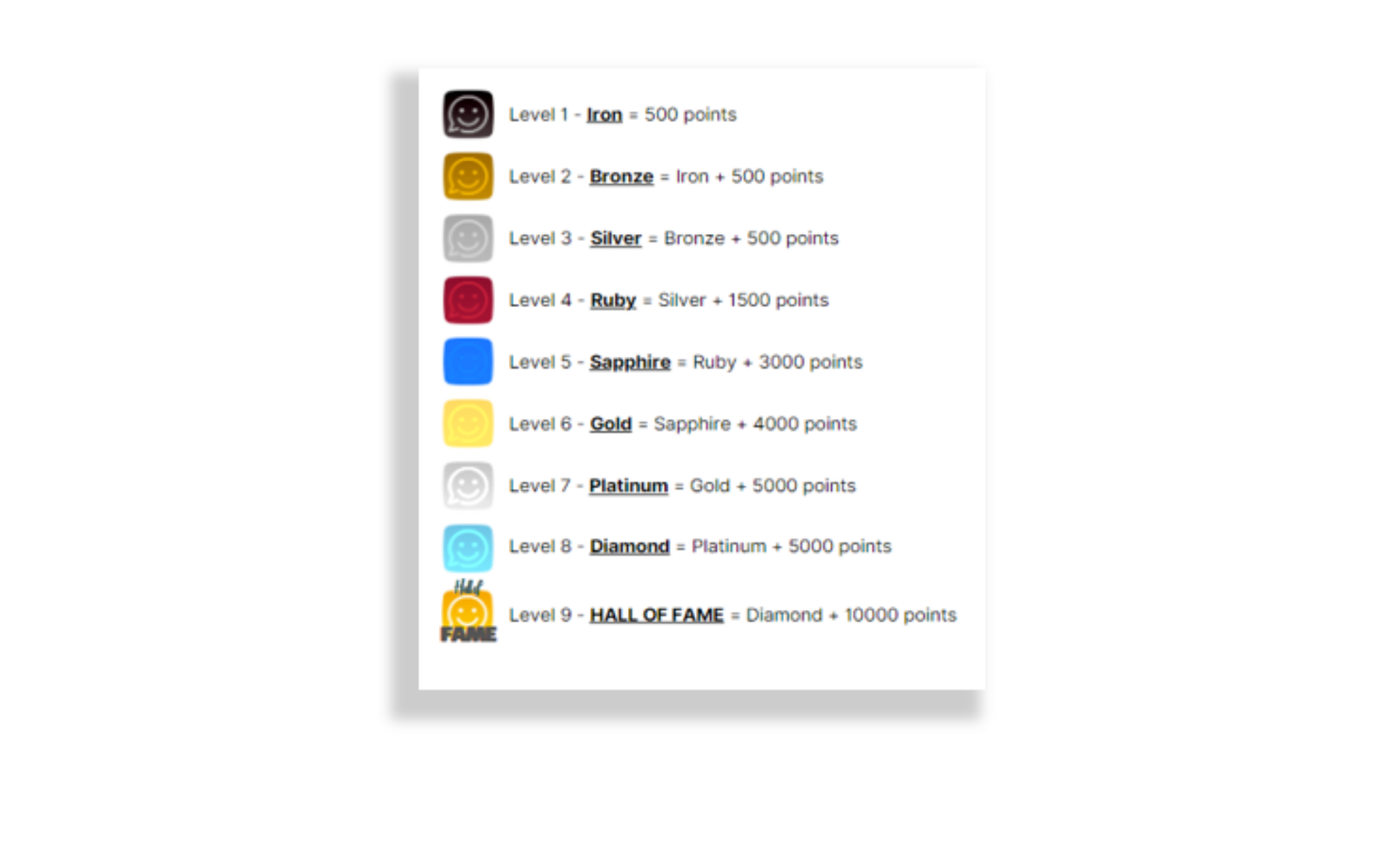 MEP Status Levels